Both you and your car deserve timely, professional help after an accident. OnStar is the first and biggest name when it comes to roadside assistance. Their features can assist with emergencies, accidents, security or theft concerns, getting stuck, or even just enjoying your commute. A free trial of OnStar and Connected Services is included with the purchase of many new cars, including ones found in our inventory. If you've never used OnStar before, let's take a closer look at what it is and its various safety features.
What Is OnStar?
OnStar is a telematics system owned by GM. Telematics, in short, refers to a system for vehicle communications, the forerunner of today's vehicles and their infotainment systems. Many modern Buicks, GMC vehicles, and more have navigation, hands-free calling, app integration, and automated emergency alerts as available upgrades or standard features. For many of those features, OnStar was the first to offer them.
Some drivers wonder why they wouldn't just get a vehicle trim level with the same features as what they might get from OnStar. The best reason is price and whether you want to buy or try. OnStar offers safety and connectivity services at a low monthly subscription which can be canceled. This allows someone to try advanced roadside assistance and communication suite temporarily.
How Do You Use OnStar Safety Features?
By buying a car with OnStar, you will get a custom rearview mirror with three buttons: white, blue, and red. The blue button in the middle is to contact an advisor in general situations where you have a question or need help. The red button is for emergency assistance and has SOS written on it. The white button (if equipped) is able to perform voice-command functions like taking calls, following a saved route, accessing an OnStar Advisor, and more.
As part of having OnStar, you'll also get access to a smartphone app that permits remote access to the vehicle and helps you prevent and react to car theft. It will also perform many of the same functions, like contacting an OnStar Advisor, without having to be in your car.
What Safety Features Are Available With OnStar?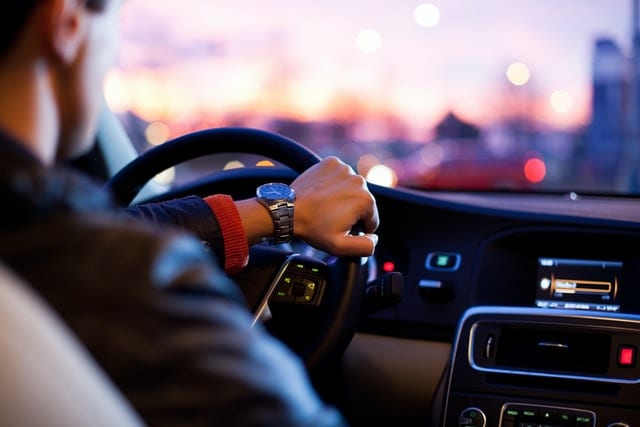 Man driving a car wearing wrist watch by why kei licensed by Unsplash
OnStar has four different subscription levels. In order of price, they are Connected Vehicle, Safety & Security, Essentials, and Premium. The following safety features appear on every package except OnStar Connected Vehicle, as they require the red and blue buttons for normal and emergency service OnStar calls. Let's review the features:
Emergency Services
After an accident or in an emergency, you can hit the red SOS button in your vehicle to immediately connect with an emergency-certified advisor, day or night. The OnStar Advisor can call first responders and give essential aid until help comes. You'll get this feature on any OnStar package other than Connected Vehicle, and it also still works even after your subscription ends.
Automatic Crash Response
If your vehicle gets into a crash, before you even get a chance to hit the SOS button, built-in sensors can alert an OnStar emergency advisor. They will connect with your car and ask what happened and how you are doing. Even if you can't respond, the advisor will dispatch emergency assistance immediately. Like Emergency Services, this feature is on every package except Connected Vehicle.
Roadside Assistance
When you get a flat tire, empty tank, or even just stuck in a ditch, press the standard, blue OnStar button. The advisor can get a tow truck or similar roadside services on the way in seconds.
Stolen Vehicle Assistance
If your car is stolen, an OnStar Advisor can track it down and collaborate with law enforcement to bring it back to you as soon as possible.
Turn-by-Turn Navigation
Ever wish you could have someone else set your navigation route? Tell an advisor where you want to go, and directions will be sent to your vehicle through Bluetooth without taking your hands off the wheel. Every turn is spoken clearly by the system, making navigation much more straightforward.
Crisis Assist
OnStar Advisors are accessible 24/7 to provide customized routing and a fellow person to talk to during extreme weather, a natural catastrophe, or any other crisis. This feature can help you stay in touch with loves ones and remain calm in difficult situations.
OnStar Guardian App
This app is included on the various OnStar safety packages and gives you an organized user interface to use OnStar features from your smartphone.
Though not necessarily safety features, OnStar also offers a variety of connected services, which can be found on the Connected Vehicle or Premium packages, or partially on the Essentials package. These include features like Amazon Alexa voice assistant, various streaming apps, and mobile data.
The OnStar Advantage
Adding and maintaining OnStar for your vehicle ensures you always have essentials like automatic post-accident advisor contact, roadside assistance, and a link to an operator for emergencies. Security features can warn the owner of the car alarm going off, allowing them to remotely delay or prevent a stolen vehicle from starting. You can also use OnStar's mobile app to track a stolen vehicle via GPS.
OnStar not only provides emergency roadside services, but also offers the tools to stay connected and comfortable while on the go, such as in-vehicle navigation, WarnerMedia RIDE music and entertainment, a voice assistant, supercruise hands-free driving, and a Wi-Fi hotspot. You can get just these features, just the emergency and road-safety ones, or a combination depending on the subscription package.
Get a Buick, GMC, or Used Car with OnStar in Daphne
When the unexpected happens, OnStar Advisors are there, 24/7. The latest GMC and Buick vehicles also come with advanced infotainment systems and connectivity features, so you're doubly covered by getting a vehicle with OnStar at Tameron Buick GMC.
Although many vehicles today have advanced collision prevention features, OnStar is an affordable alternative or bonus option. When you get a vehicle at Tameron Buick GMC, we recommend adding OnStar's safety features if possible. You'll get convenient access to an emergency and roadside assistance advisor, and the emergency SOS button will remain there if you ever need it, even if your subscription ends. Browse our inventory today and ask about OnStar availability.