If you're looking for lovely waterfront dining, you'll find ample options in Daphne and the surrounding areas. Sitting along the Mobile Bay, this city is the perfect destination when you want to soak up the sea breezes as you enjoy a delicious lunch, dinner, or evening drink. Check out these restaurants for your next outing on the water and plan for a night with great weather, so you can dine outside and really soak up the unique ambiance that these locations can provide.
Boudreaux's Cajun Grill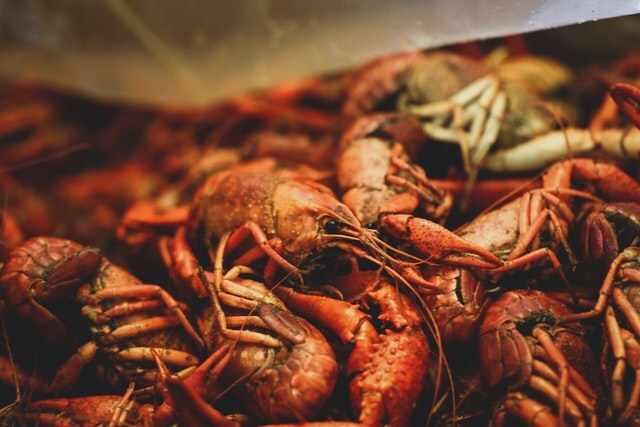 Image via Unsplash by stephanie_moody
Boudreaux's Cajun Grill serves a flavorful menu of Creole and Cajun cuisine in a beautiful waterfront location that's right on Mobile Bay. The deck dining is especially picturesque, offering raised fire pit tables and panoramic views of the bay. Boudreaux's makes it easy to start your meal right with flavorful starters like blackened gator, stuffed pistolettes, kickin' crawfish, and fried green tomatoes. The menu offers a wide variety of Cajun specialties including shrimp creole, crawfish cakes, and the plaquemine parmigiana which features boneless chicken thighs in a spicy vodka sauce.
You can also opt for a New Orleans pasta, hand-cut steak, or fresh fish. If you're in the mood for something more casual, get your hands on a 1/2-pound steakburger, po' boy, or fried seafood platter. Make sure you leave room for dessert. With dishes like key lime pie, bananas foster bread pudding, and beignets, you're sure to find something sweet that calls to you.
The Back Deck Bar & Grille
Situated in the freshly renovated Lake Forest Yacht Club, the Back Deck Bar & Grille is a cozy spot for waterfront dining. Overlooking the bay and its stunning sunsets, this is the perfect destination for a gorgeous dining experience. You can dine al fresco on the deck or take in bay views through the floor-to-ceiling windows as you pull up a seat at the bar.
The Back Deck menu features salads, sandwiches, flatbreads, and baskets of fried chicken, shrimp, or fish. You can also indulge in a filling entrée like the New York strip steak, voodoo chicken pasta, or fettucine jubilee. If you're in the mood for small bites, the starters include shrimp and crab dip, jumbo chicken wings, cheese quesadillas, mozzarella sticks, and more. As the restaurant gets back up to speed following its renovation, you can expect to find special events like live music, karaoke, and trivia.
River Shack
The River Shack offers a quaint setting, friendly atmosphere, and stunning waterfront views. The River Shack regularly hosts live music on Friday, Saturday, and Sunday. On Thursday nights, you can take to the stage yourself to sing karaoke. The menu changes periodically, but you can expect to find a great selection of casual fare like crawfish boils, ribs, chicken, pulled pork, and Cubanos.
The River Shack's Sunday brunch specials are cleverly marketed to cure any hangover. You'll find options like stuffed crab Oscar, seafood omelettes, boudin Benedict, wings and waffles, and breakfast burritos. The beignet fries are a delicious choice when you want a sweet treat, and they taste especially decadent when dipped in a Bushwacker. The Bushwacker is a sweet frozen drink that's similar to a chocolate pina colada.
Felix's Fish Camp
Felix's Fish Camp sits along the Mobile Causeway, offering waterfront views from its rustic dining areas. The menu offers an abundance of dishes from the sea, including fried crawfish tails, spicy shotgun shrimp, crabmeat spinach dip, seared ahi tuna, seafood gumbo, and baked oysters. If you're not in the mood for seafood, you can still find something delicious to dine on, like the chicken parmesan, ribeye, filet mignon, or George Major's chicken breast.
In the Boat House Bar, you'll find live music every day of the week. Performers are typically solo singer/songwriters or duos. For ambiance, flavor, and weeknight entertainment, it's hard to do better than Felix's Fish Camp. The destination becomes extra lively on the weekends, making it a popular nightlife destination all the way around.
The Mariner Restaurant
The Mariner Restaurant has proudly served customers throughout the Mobile and Daphne areas since 1983. You'll enjoy views of Dog River from the large dining-room windows and deck. The menu offers a little of everything, including burgers, po' boys, shrimp and grits, linguine pasta alfredo, fried shrimp, oysters, and chicken tenders. As with most waterfront dining, the emphasis is heavy on seafood dishes with options like fried crab claws, fish tacos, and seafood gumbo.
In addition to serving as a restaurant, the Grand Mariner is also a marina that offers transient docking, long-term slip rentals, and a full-service boatyard that provides mechanics, fiberglass repair, bottom painting, and more. Whether you're arriving by water or grabbing a bite when you drop off your boat, you'll find this to be a tasty and convenient destination.
Sunset Pointe
Sunset Pointe at Fly Creek Marina sits on Fly Creek, which leads out to Mobile Bay. You can enjoy the warm and welcoming dining room indoors, or sit at one of the charming tables outside with waterfront views. The gourmet menu offers an abundance of dishes inspired by the coast.
You can start with appetizers like crab-meat-balls, seared tuna nachos, or Gulf Coast BBQ shrimp with crusty bread. For your entrée, consider a signature favorite like Pop's Pasta, featuring chicken or shrimp and fettuccine in a spicy tomato cream sauce with a touch of lemon and rosemary. The southern fried fish n' chips are a great go-to, served with grilled slaw, sweet potato chips, and a malt vinegar aioli. Sunset Pointe also offers a full bar with a selection of wine, beer, and cocktails. The seasonal cocktail always offers fresh flavors that play perfectly with the weather outside.
What do you think of these local favorites and their ocean-inspired menus? Did we include your favorite waterfront restaurants on our list here? If there's a great dining spot with views of the water that we missed, contact our team at Tameron Buick GMC and let us know. We always want to have the best suggestions in town for hungry customers as they're driving off the lot and onto their next adventure.