Planning a thoughtful date night is an exciting experience. You get to share fresh adventures with someone while getting to know them better. A well-thought-out evening shows you took time and care in your decisions and that you value your time together. Whether you're looking for a relaxed afternoon with a stroll in the park or want to get up close and personal with wildlife, you have plenty of options from which to choose. Read on to learn about our top five delightful date-night destinations in Daphne, Alabama.
Airboat Rides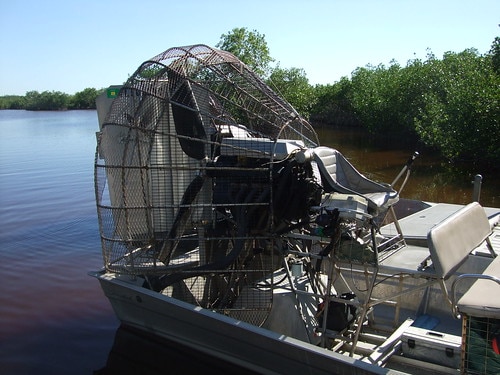 Image via Flickr by Elin B licensed by CC BY 2.0
Airboat Adventures Tours is an exceptional option if you want to do something adventurous yet romantic on your date. The captain, Mark Pillion, has more than 25 years of experience working for the Department of Conservation division and was the manager of Meaher State Park. Pillion, a United States Coast Guard certified captain, will guide your boat safely through the waters while you sit back and enjoy the ride. Journey through the Mobile-Tensaw River Delta, the largest river delta and wetland in Alabama.
Airboat Adventures has several ride options to choose from. For those looking to catch a glimpse of area wildlife, consider the Fun Run. It's a 30-minute ride that treats you to a quick glide over the shallow waters in an airboat. The ride minimum is four people, so you might want to plan a double date with close friends. On this and other rides, you might spot alligators, egrets, turtles, snakes, herons, and eagles, to name a few.
To catch a romantic Daphne sunset, consider registering for a Sunset Trip. You and your date can enjoy the evening glow from the delta. Or, if you want a more in-depth and educational experience, opt for the Eco Tour. During this hourlong ride, your boat will go at a slower pace and make frequent stops. These pauses are perfect opportunities to snap a few photos with your date.
All Airboat Adventures are by appointment, so be sure to plan ahead. Prices per adult range from $40 to $60, depending on the ride you select. For more information or to book your reservation, call 251-680-4477 between 7:30 a.m. and 8:30 p.m., or fill out the contact form. The tour office is located inside Blue Gill Restaurant at 3775 Battleship Parkway, in Spanish Fort.
Village Point Park Preserve
Village Point Park Preserve, once known as Jackson Oak Park, is the largest park in Daphne. The preserve features an awesome collection of state champion trees, untouched wetlands, clear streams, and woodlands sure to delight nature-loving couples. Visit one of Alabama's most historic trees, Jackson's Oak. This massive live oak tree is 95 feet tall and has a circumference of 28 feet. Jackson's Oak has been a landmark since the 18th century and now has a viewing platform that provides an excellent view of this immense tree while protecting it from walking traffic.
At the preserve, you can also visit the D'Olive Cemetery. Established in the early 1800s, this complete acre plot of land is the final resting place of the oldest family in Daphne and one of the oldest cemeteries in Baldwin County. Several original headstones still stand, as well as many unmarked ones. Take paper and charcoal to make gorgeous headstone rubbings and commemorate your visit.
Avid bird-watchers will also enjoy the opportunity to view many native birds in their natural habitat. Bring binoculars or your camera to take photos. Depending on the time of year, you're likely to see downy woodpeckers, blue jays, brown thrashers, eastern towhees, Carolina chickadees, and northern cardinals. Walk the trails, and head over to the boardwalk to enjoy the view and hopefully catch some birds in flight.
The park is at 27717 Main Street. For information, including park hours, email contact@VillagePoint.info.
Alligator Alley
Gator Alley Farm is great for the couple seeking a thrill and wanting to learn more about these mighty creatures. A visit here features a guided adventure where you walk on an elevated platform and view more than 200 alligators, from small hatchlings to adults, relaxing and nesting. After the tour, participants are invited to the air-conditioned gator station, where you can choose to hold a baby alligator.
You'll find this intense experience at 19950 Highway 71 in Summerdale, Alabama, about 30 minutes from Daphne. Park hours are from 10 a.m. to 5 p.m. daily. General admission is $15 for adults. For more information, call 251-946-2483.
Orange Beach
If you don't mind the drive, within an hour you can be at Orange Beach, Alabama. Here you'll find one of the most beautiful beaches in the area, with powder white sand, picturesque boardwalks, and warm clear waters. Bask in the sun, take a dip in the waters, or hop on the Ferris wheel by The Wharf and catch a gorgeous view of the entire city. For information, call 251-981-6979.
Southern Napa Fine Wine House
For a romantic evening enjoying fine wine and conversation, head over to the Southern Napa Fine Wine House in Olde Towne Daphne. This charming building is home to some of the best wine, craft beer, and champagne around. Browse the selections of white wine, red wine, and champagne. You'll also find cheese and gourmet pantry items to pair perfectly with a glass or bottle of your favorite wine. For beer lovers, there's everything from ginger and stout beers to ales and IPAs.
You'll find Southern Napa Fine Wine House at 2304 Main Street. For more information, including featured promotions and hours, call 251-375-2800.
So there you have it. Tameron Buick GMC has enjoyed sharing with you our list of the top delightful date-night destinations in Daphne, Alabama. If you're looking for an adventurous or unique date idea in Jubilee City, consider one of these activities. What do you think of our list of suggestions? Did we miss your favorite date destination? If we did, let us know! Leave us a message sharing your thoughts, and we'll be happy to check out your ideas.