Daphne, Alabama, is a city in Baldwin County, situated on the eastern shoreline of Mobile Bay. It's located 11 miles east of Mobile, along Interstate 10. Locals know Daphne as Jubilee City because of a natural phenomenon where abundant shellfish appear on the shores of Mobile Bay, making it easy to catch your bounty of shrimp, flounder, and crab. If you're wondering how to spend your day, from the best attractions and dining options to spots for outdoor recreation, here are the top seven things to do in Daphne, according to the team at Tameron Buick GMC.
Gator Alley Boardwalk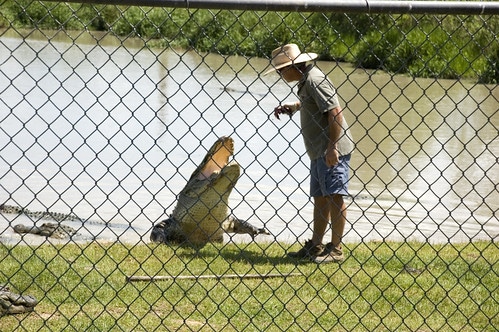 Image via Flickr by amelungc licensed by CC BY 2.0
Gator Alley Boardwalk was established in 2004 by Wes Moore. The alligators that now call it home were all rescued and transported from areas where their presence wasn't natural to the safety of Gator Alley. Gator Alley's design is specially created to give the rescued gators a natural habitat.
There's an elevated platform at Gator Alley where guests can follow a guided walk. They can catch a view of more than 450 alligators from the platform, ranging from babies to fully grown adults. In addition to the gators, there's prime viewing of turtles, ospreys, owls, and bullfrogs. An additional attraction is located at the Gator Station, where visitors can hold and feed baby alligators. This nature sanctuary is fun for the whole family, individuals, or groups. Visit Gator Alley Boardwalk at 29281 N. Main St.at D'Olive Creek.
Daphne's Bayfront Park
Daphne's Bayfront Park is situated on Mobile Bay with a pier offering beach seating, a boardwalk, and a gazebo. Daphne's Bayfront Park is listed on the Alabama coastal birding trail and is a good fishing spot. If you're looking for somewhere to enjoy a beautiful sunset, then Daphne's Bayfront Park is the place to be. There are restrooms on-site, so you can enjoy a day at the beach or some fishing time without leaving the park.
Daphne's Bayfront Park also has kayak or canoe access and a boardwalk connecting Bayfront Park to the Village Point Park Preserve. Diverse wildlife makes its home here, and prime viewing spots are available. You can visit Daphne's Bayfront Park at 6200 Bayfront Park Drive from 6 a.m. to 6 p.m. daily.
Centennial Park
This spot was previously a nine-hole golf course in Lake Forest, but today it's part of a park that disc golf players use every day. The disc golf course at Centennial Park has sloping hills for a bit of a challenge, but not so steep that it's exhausting. There's a playground area for your little ones, and it's a safe place for kids to ride their bikes and scooters.
They also have picnic tables for a family lunch or dinner and restrooms available on site. Centennial Park offers ample spots to relax under the shade of old-growth trees. The park is conveniently located at 1706 Main St. in Olde Town Daphne, across from Daphne City Hall, which puts you within easy walking distance of several restaurants, and shops on Main street. You can visit Centennial Park daily from dawn to dusk.
Village Point Park Preserve
The Village Point Park Preserve is one of the newer parks in Daphne, yet it's a park rich in history at the same time because some of the continent's earliest residents traveled across the area and set up homes. Europeans explored the land and founded colonies where the park is now located. There's also a historic cemetery on site.
In the present day, the central highlight of the Village Point Park Preserve is unlimited public access to Mobile Bay, providing locals and visitors alike access to the waterfront to enjoy. It's also an estuary for wildlife. Check out Village Point Park Preserve at 27710 Main St. from 8 a.m. to 6 p.m. daily.
The Wacky Shrimp
Due to being situated on the Mobile Bay, Daphne offers a wealth of seafood. The locals flock to The Wacky Shrimp for fresh seafood and shellfish. You can have grilled, fried, or baked seafood with delicious hushpuppies on the side. Their shrimp and fish are sourced locally from nearby Daphne fishers, guaranteeing the freshest dinner around. If someone in your party isn't in the mood for seafood, they also serve great cheeseburgers and fries. The Wacky Shrimp is open Monday through Saturday from 10:30 a.m. to 8 p.m. at 1650 U.S. Highway 98.
Hot Wheels Skate Center
The Hot Wheels Skate Center has been in business for 17 years and is run by the Eady family. They pride themselves on keeping up a fun, safe, and affordable roller skating rink. They also have an arcade on-site, a pro shop, a novelty stuff shop, and a full-service snack area. The skate center offers summer camp programs, after-school care, and party packages to celebrate your special occasion. It's an enjoyable place for kids to get out and skate, but the whole family is sure to enjoy a visit to Hot Wheels Skate Center.
Plan your fun at Hot Wheels Skate Center on Monday, Tuesday, and Thursday from 12:30 p.m. to 2:30 p.m.; Friday from 7 p.m. to 10 p.m.; Saturday from 1 p.m. to 5 p.m. and again from 7 p.m. to 10 p.m.; and Sunday from 2 p.m. to 5 p.m. Hot Wheels is located at 616 Whispering Pines Road.
Boudreaux's Cajun Grill
Boudreaux's Cajun Grill is focused on a regional favorite, Cajun cuisine. You can experience authentic Cajun food without having to drive to Louisiana. Boudreaux's makes classic Cajun-inspired dishes with all of the best local ingredients, including the abundant fresh seafood that Daphne offers. Your meal at Boudreaux's Cajun Grill will be enhanced by live music and breathtaking panoramic views of the bay. You can relax with a Bourbon-Street-inspired cocktail while taking in the view. Boudreaux's Cajun Grill is open Sunday from 10 a.m. to 9 p.m., Monday through Thursday from 11 a.m. to 9 p.m., and Friday and Saturday from 11 a.m. to 10 p.m. at 29249 U.S. Highway 98.
Whether you're new to the area, visiting on vacation, or a lifelong resident, these seven spots in Daphne are guaranteed to bring you joy. If you have a favorite place, activity, or location you love in Daphne, Alabama, reach out to the Tameron Buick GMC team. We'd love to hear from you, and look for any excuse to explore Daphne for our customers.