Daphne, Alabama, sits along the eastern shore of Mobile Bay. It's a small community with many green spaces, parks, and historic areas that make excellent picnic spots. If you're looking for a place to spend an afternoon outside in the fresh air while enjoying a picnic, take a look at these Daphne area parks.
Village Point Park Preserve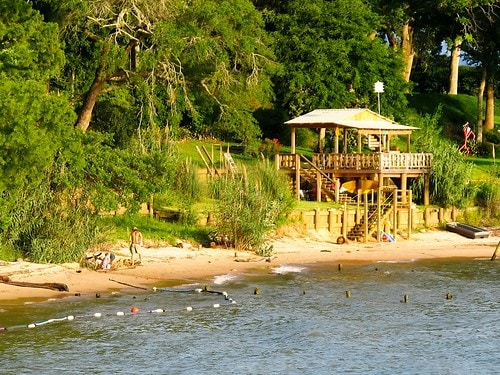 Image via Flickr by digitizedchaos licensed by CC BY 2.0
Village Point Park Preserve offers access to Mobile Bay and has one of the few available public beaches on the bay. The park has several well-maintained trails and a raised boardwalk, making it an ideal spot for a picnic and a hike. It is also home to the D'Olive Cemetery. This cemetery is worth exploring before or after your picnic, with gravestones that date back to the early 1800s.
One of the best spots for a picnic is by Jackson's Oak. This oak tree is over 300 years old and is one of Alabama's largest and oldest live oaks. There are picnic sites near the tree if you want to stop there for a while.
Village Point Park Preserve's beach access also makes it perfect for a picnic. There are park benches if you don't want to sit on the ground, but you can also spread a blanket out on the beach and have your picnic by the water.
Meaher State Park
Meaher State Park sits on the Mobile Bay wetlands. It's a beautiful park with a 300-foot pier and freshwater fishing. The picnic area is open for day-use guests and has picnic tables, a comfort station, and a picnic shelter.
After you eat, make sure to spend some time exploring the park. There are walking trails, open spaces, and a boat ramp that provides access to the Blakeley River.
Gulf State Park
Gulf State Park in Gulf Shores, Alabama, has two miles of beach for your picnic. You can also pick a spot at the new beach pavilion or find a shady spot along the pier. The beach pavilion has lots of places to sit and have your lunch, along with air-conditioned restrooms, a snack bar, and a large fireplace for use if it's a chilly day.
Gulf State Park offers a variety of things to do while you are there for your picnic. There's a paved trail system for walking and biking and several trailheads to explore all around the park. If you want a fun experience, check out the Segway tours. You can take a two-hour guided tour that runs throughout the park.
May Day Park
Head to May Day Park for your afternoon picnic. This is a popular spot in Daphne for community events. It features large oak trees, so there's plenty of shade, and it has a pier, picnic tables, restrooms, and a playground, meaning the kids can play after they eat. May Day Park is free for all visitors, with parking available at the entrance to the park. There are also a few parking spots by the waterfront, but these tend to fill up fast.
Belrose Park
You'll find Belrose Park on Belrose Avenue in Daphne. This park has picnic areas and a sandy beach, and it stays open from dawn to dusk. You can park on the side of the street near the park, then head down a few flights of stairs to the sand. Once you get to the bottom, you'll find a few picnic tables and entrances to the beach areas. If you plan your picnic for the evening, this is a great spot to watch the sunset.
McMillian Bluff
McMillian Bluff is an overlook with beautiful views. It looks out over Mobile Bay, with views of the ocean and beach. There's a deck where you can stand to see the views, and there are also some landscaped gardens and walking trails to explore. If you pack your picnic and bring it to McMillian Bluff, you can sit down on the grassy area and stretch out in the sun, or if you prefer to stay out of the hot sun, there are plenty of trees to provide shade. You'll find McMillian Bluff on Mcmillan Avenue and Lovette Lane in Daphne.
W.O. Lott Park
W.O Lott Park has something for everyone, including spaces on the grassy areas for a picnic. This popular city park has tennis courts, pickleball courts, bocce ball courts, and a basketball court. There's a playground and a picnic area so the kids can eat and then go play, whether it's on the playground or on one of the courts. You'll find W.O. Lott Park on Main Street in Daphne.
Bayfront Park
As its name suggests, Bayfront Park sits on Mobile Bay facing west. It's the perfect spot for a picnic at sunset. This park has a tranquil atmosphere with access to the beach, an extensive raised boardwalk, and a pier. There are lots of picnic tables where you can sit to eat or just spread a blanket out on the beach. The park also has benches where you can stop to take a rest or use them for your picnic and people watching. Make sure to explore the walking trails before or after your picnic.
Gator Boardwalk
Gator Alley Boardwalk might not sound like the best place for a picnic, but this boardwalk and walking trail has some great places to get out and see area wildlife and stop for a picnic. The raised boardwalk keeps you safely out of the alligator's reach, and you never know when you might spot one in the water. There is a small picnic area that's perfect for a quick stop if you get hungry.
At Tameron Buick GMC, we love our Daphne picnic spots near the water, but there are also several places inland, too. Make sure to stop by so we can help you find a reliable car or SUV to get you to these great spots, and if we've missed a place you like to go, let us know so we can add it to our list.