With Halloween season fast approaching, it can be fun to check out some of the area's local haunted houses and spooky locations. Whether you are interested in learning some of the histories of haunted places or looking to get a good, healthy Halloween scare, there are many places to visit around Daphne, Alabama. The good news is that these haunted stops are open all year long! Here are some places you can visit, courtesy of Tameron Buick GMC.
Fort Conde Inn
Located in Mobile, Fort Conde Inn is a historic building that was built in 1836. It is currently a bed and breakfast, but guests report hearing voices in the inn when they are alone and feeling a presence on the second floor. Sometimes, you can also hear slamming doors and shaking beds. To top it off, lights sometimes flicker on and off, as well.
The inn is a fully functioning hotel comprised of a collection of homes all dating back to the 19th century. If you are interested in staying a night at this bed and breakfast, be sure to visit the website and book yourself a room there. Maybe you'll be one of the lucky ones who experiences something spooky at the inn!
The Fort Conde Inn is located at 165 St. Emanuel St, Mobile.
Malaga Inn
This inn is a set of townhouses built in 1867. They have changed hands several times over the past several decades but were turned into a boutique hotel in the 1960s. Guests have seen a ghost walking around on the balcony of room 007, while others have seen furniture moving on its own, lamps being unplugged, and chandeliers swinging for no reason.
The inn is a beautifully renovated bed and breakfast, and guests are welcome to stay in the premier rooms. A handful of guests have had experiences while staying at the inn, so if you are lucky, you might have an experience too.
You can visit the Malaga Inn's website to check the availability. It is located at 359 Church St., Mobile.
Kate Shepard House B&B
The Kate Shepard House was built for its namesake, an educator, in 1897. Over a century later, the house was converted into a two-room bed and breakfast. Visitors to the home have seen an apparition of an older woman, while others have felt a strange presence while at the house.
This bed and breakfast has a lot of history and lets you peruse through a large collection of important papers found with the house, including Civil War documents. If you want to stay at this bed and breakfast, you can visit their website and check the availability for one of the rooms in this home.
You can find the Kate Shepard House Bed and Breakfast at 1552 Monterey Place in Mobile, Alabama.
Boyington Oak at Church Street Cemetery
The legend of the Boyington Oak stems from a printer named Charles Boyington, who was a printer and a known gambler. One day Nathaniel Frost, a man who was seen accompanying Boyington, was found dead. Since Boyington had been seen with the man, he was accused of murder. Before his execution in 1835, Boyington said that an oak tree would spring from his heart, proving his innocence. Sure enough, after his death, an oak tree grew just above his grave.
Visitors to the gravesite have claimed they have heard phantom cries and whispers in the area around where the tree grows.
You can find the gravesite in Mobile, AL, at the zip code 36602.
Battle House Renaissance Hotel
Once Andrew Jackson's military headquarters location during the War of 1812, the Battle House Hotel was built in 1852. While the hotel burned down in 1905, it was rebuilt shortly after. The hotel closed in 1974 and was reopened in 2007. Visitors to the hotel have reported hearing voices, watching faucets turn on and off, and seeing shadowy apparitions.
If you want to visit this historic hotel, you can check out their website and book your stay.
The Battle House Renaissance Hotel is located at 26 N. Royal St. in Mobile.
USS Alabama
The USS Alabama was constructed in 1942 and saw heavy action during World War II. It won battles in Europe and Japan before being decommissioned on January 9, 1947. Now a National Historic Landmark in Mobile, guests can visit the battleship. While visiting the battleship, visitors have claimed that they have heard strange voices and witnessed some hatches being slammed shut on their own.
To visit the battleship, you can go to the USS Alabama Battleship Memorial Park website to check out hours and prices for admission.
The USS Alabama Battleship Memorial Park is located at 2703 Battleship Parkway, Mobile.
Haunted Mobile Tours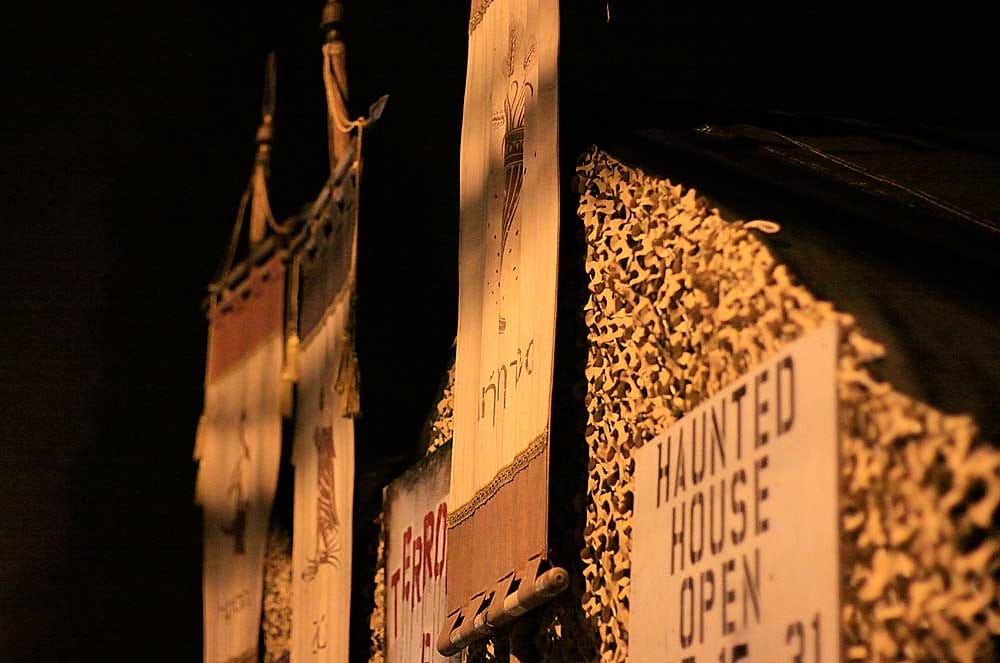 ?
Image via Flickr under CC BY 2.0 by waferboard
For an all-in-one experience, you can do a Haunted Mobile tour to learn about even more haunted locations around Mobile. These tours share local stories about haunted experiences around town.
At Mobiles Own Ghost Stories Tour, you can listen to ghost stories from the past. The tour costs $20 per person and will share stories of strange events in the past. To do this hour tour, you must make a reservation. You can do that by calling 800-338-5597 or 251-479-9970.
You can also try Secret History Tours and try the Dark Secrets at Iron Hand, which is a walking tour around Mobile. This tour takes you through town as you explore pre-Civil War mansions, an old church, and overgrown gardens with spooky stories. The tour costs $25 and lasts two hours, starting at the Iron Hand Brewery. Be sure to make your reservations online.
The brewery is located at 206 State St., Mobile.
There are lots of haunted spots located around Daphne, Alabama. For more haunted places, you can visit the Alabama Haunted Houses website, which shows you all the local spots in the area. Have you visited a haunted place around Daphne? We at Tameron Buick GMC would love to hear your favorite places to visit and any haunted stories you have.