Daphne, Alabama, commonly known as "Jubilee City," is popular for its rich cultural heritage, natural beauty, and hometown spirit. The city's Adopt-A-Park program maintains the area's fantastic parks and hiking trails. If you live in or visit Daphne to witness the Jubilee Festival or stroll through one of its parks, be sure to grab a meal at one of the restaurants, particularly those specializing in mouthwatering barbecue. Below are some of the top barbecue spots in Daphne.
Mediterranean Sandwich Co.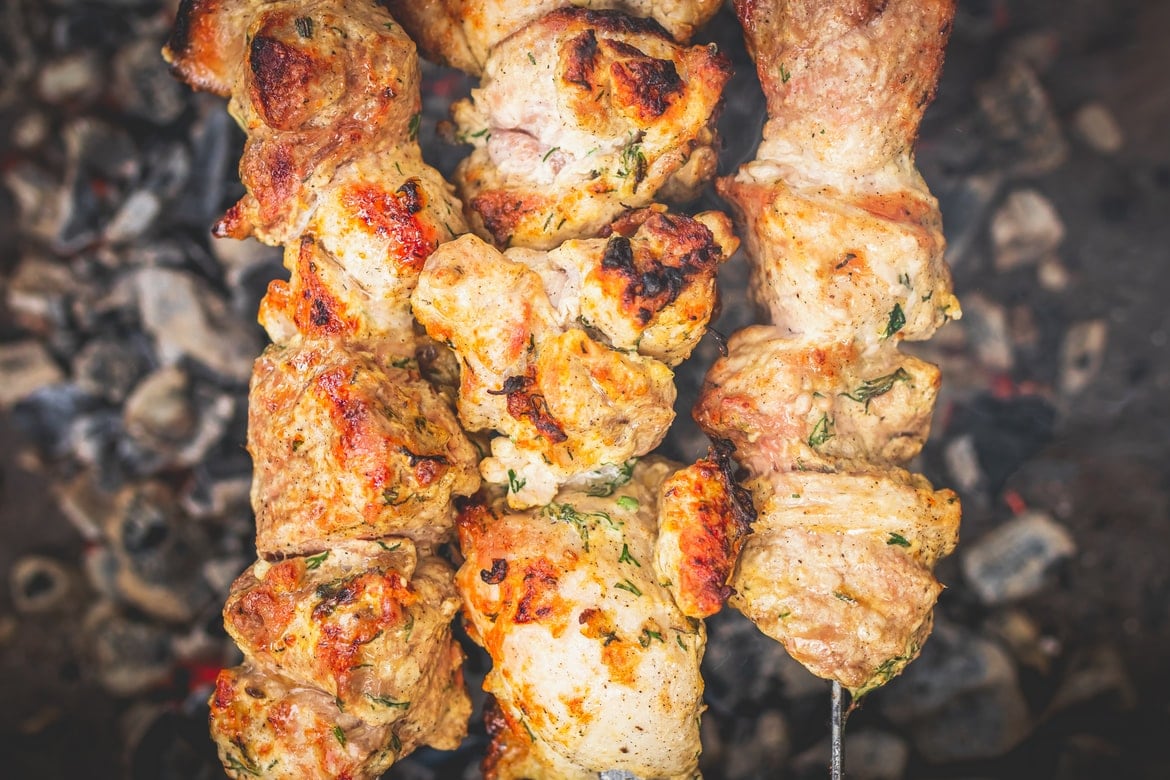 ?
Image via Unsplash by Artem Beliaikin
For delicious rotisserie chicken and beef, head to Mediterranean Sandwich Co. The restaurant serves dishes the chefs handcraft using fresh and fine ingredients. Since 2009, the owners have been offering customers tasty Mediterranean-style barbecue dishes, such as gyro meat and shawarma. While here, try the mixed grill that features roasted chicken, sweet onion marmalade, beef-lamb, and mozzarella cheese served with bearnaise aioli sauce. Or, grab one of the signature gyro wraps filled with beef, lamb, or chicken.
Baumhower's Victory Grille
Since 1982, Baumhower's Victory Grille has dedicated itself to serving Alabama residents buffalo-style chicken wings. The eatery has more than 10 locations across the state, including the one in Daphne. Here you can get wing platters ranging from four to 16 pieces of bone-in or boneless meat and your choice of 13 barbecue sauces. In addition to its legendary buffalo chicken wings, the cafe serves a chargrilled black-and-white chicken wrap, bam bam Alabama gulf shrimp tacos, grilled fish tacos, and many other delicious dishes.
Texarbama BBQ
The Texarbama BBQ serves traditional Texas barbecue using quality ingredients, bold flavors, and simple sides. The restaurant serves a straightforward but satisfying menu that includes chopped beef, pork, brisket, or ribs accompanied by flavorful toppings. The chopped beef comprises smoked beef complemented by crunchy slaw. The pork is slow-cooked to make it melt-in-your-mouth soft and comes with traditional coleslaw topping and in-house bacon. You can choose to accompany your meal with your favorite selection from the long list of wines.
Hibachi on the Go
If you love a Japanese spin on traditional barbecue, try the food at Hibachi on the Go. The restaurant specializes in hibachi and yakimesi, a Japanese dish that features fried rice with chicken, steak, and shrimp. Simply select a protein — chicken, tofu, steak, shrimp, salmon, or tuna — for your hibachi or teriyaki meal and one of the many sauce options to complete the dish. You can call to order in advance, and within 10 to 15 minutes you can have your food ready. Alternatively, you can sit at the bar and enjoy a drink as you wait for your food.
L.A. Barbeque
L.A. Barbeque is a family-owned and -operated restaurant that serves delicious American dishes and barbecue in neighboring Summerdale. The eatery makes all its food from scratch daily and uses a blend of secret seasonings to make its meat extra flavorful.
The menu is organized by meal size: small trough, large trough, and bulk Q. The Q In A Box trough servings are perfect for bringing on a picnic or beach day. Choose a small trough to feed about four to six people and a large trough for crowds of eight to 10. The bulk menu features beef brisket chopped or sliced, chopped pork, whole beef brisket, whole Boston butts, and whole chicken. The barbecue is accompanied by your choice of two sides and bread.
Bay Barbeque
For quality smoked meats, head to Mobile to check out Bay Barbeque. The restaurant uses its signature brine and smokes all its meats to ensure a tender texture. When here, try one of the smoked meat options, including the baby back slab, erotic smoked baby back ribs, or smoked beef brisket. The meats come with Hoppin John, tangy coleslaw, or both as your sides. Bay Barbeque is a fantastic spot for a barbecue lunch with the family. The environment is calm and inviting, and the only beverages served are soft drinks.
Meat Boss
If you don't mind venturing outside Daphne to find fantastic barbecue, check out Meat Boss in Mobile, Alabama. The restaurant serves barbecue meats on buns or in wraps with your choice of in-house sauces and Southern sides. The restaurant specializes in whole smoked meat and lunches. You can opt to take your barbecue to go or enjoy your meal at the dine-in seating.
The menu comprises a variety of smoked meats, including beef brisket, Boston butt, turkey, chicken, ribs, and more. The tasty in-house sauces, made using special ingredients, include Sweet, Spicy Carolina, and White BBQ. Meat Boss is a good place to hold family gatherings, holiday parties, or company cookouts.
Dick Russell's Bar-B-Q
Dick Russell's Bar-B-Q is a family-owned restaurant in Mobile whose main focus since opening in 1954 has been comfort and service. This memorable roadhouse serves beef, fried pickles, and sweet potatoes in a homey environment. The owners' goal is to ensure each customer receives timely and friendly service. Regardless of the occasion, you can trust Dick Russell's to deliver service that ensures an excellent dining experience. The establishment has won numerous awards, including the Lagniappe Award and an Alabama BBQ Hall of Fame induction for its lunch and dinner.
The house specialties include boneless wings, spicy chicken, barbecue pork and chicken, chopped chicken, smoked chicken, and much more. The cooks use fresh, handpicked ingredients to ensure high-quality, delicious meals. Everything is fresh and full of flavor, from the biscuits to the barbecue sauce to the steaks.
You now have our list of top barbecue places in and around Daphne, Alabama. Depending on your taste and preferences, you'll never lack something to satisfy your taste buds. If you know about a barbecue spot we missed or have a question about the ones we didn't, mention it in the comments section below. Most importantly, if you need to buy a car to get to your favorite barbecue joint, visit or contact us at Tameron Buick GMC. We can help you find a vehicle that will meet your needs and budget.