GMC has built a reputation as an automotive manufacturer that provides high-quality vehicles that blend comfort and capability. The 2021 line of GMC trucks is no exception, with a range of excellent interior options that make your rides both more functional and more enjoyable. This guide has everything you need to know about what makes the interior of a 2021 GMC truck so special.
Space to Stretch in Front
Comfort is king when it comes to designing a truck. Whether you're going for a recreational drive or heading out for a day of work, a cramped interior makes for an uncomfortable ride and an unpleasant experience. That's why GMC trucks come with class-leading front leg- and headroom. You and your front-seat passenger can stretch out and sit comfortably every time you go for a drive in your GMC truck.
Back Row Ready
If you invest in a two-row truck from GMC, you don't have to worry that your passengers in the back room are getting the short end of the stick. GMC trucks are designed to provide ample legroom for rear-seat passengers as well. Your back-row passengers also benefit from wider openings that make it easy to get in and out. Additionally, rear climate control vents will help keep your back seat riders comfortable when temperatures outside soar to new heights or dip into frigid lows.
Outside Noise Absorption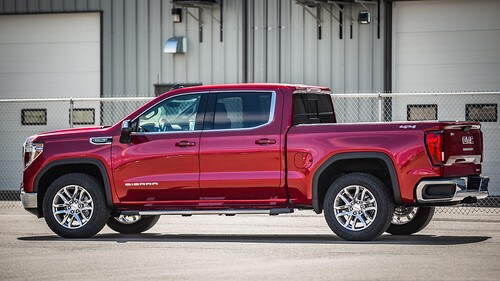 ?
Image via Flickr under CC BY 2.0 by truckhardware
GMC trucks are built to work hard, and we understand that not every workspace is an area of peace and quiet. Whether you're operating on a busy job site or a noisy highway, a ride in your GMC truck is more enjoyable when the outside noises stay outside and the inside noises stay in. That's why 2021 GMC trucks come with sound-absorbing materials in the dashboard and carpet to help minimize the impact that noise outside has on your experience in your truck.
These trucks also feature inlaid triple-sealed doors to further enhance the sound dampening capabilities. Whether you're having a conversation with your passenger or listening to your favorite entertainment over the sound system, this sound dampening design helps to minimize the interruption from the outside world, while not shutting it out entirely so that you can still hear important noises when needed.
Seating Materials to Match Your Style
We know that every shopper has their own needs and tastes when they look for a GMC vehicle. That is why the latest GMC trucks come with a variety of interior options to help you customize and match your personal style. In addition to optional interior upgrades like a leather-wrapped wheel and leather seating, 2021 GMC trucks come with interior styling options, including:
Dark Walnut/Slate Perforated Front Leather-Appointed Seating.

Jet Black Perforated Front Leather-Appointed Seating.

Jet Black Perforated Leather Seating Surfaces.

Dark Walnut/Dark Ash Grey Perforated Leather Seating Surfaces.

Jet Black Perforated Front Leather-Appointed Seating Surfaces with Kalahari Accents.
Cabin Convenience
Just because GMC trucks are designed to work hard doesn't mean that they aren't capable of helping you play hard, or that you don't want to be comfortable and entertained while you are at work. That's why the cabin of every 2021 GMC truck comes with a range of convenient amenities that make every drive in your GMC truck more enjoyable. Outstanding cabin perks available in 2021 GMC trucks include:
Heated steering wheel.

When winter arrives and the temperatures drop, the last thing you want is to come in from the cold outdoors only to find that the wheel on your GMC truck is frozen, too. Opting for a heated wheel for your GMC truck offers interior heating elements that quickly bring it up to a comfortable temperature, making for a more enjoyable drive every time.

Heated front and rear seating.

Another fantastic option for the colder months when an Alabama night feels like one more suited to a town farther north, both the front and rear seats in your GMC truck can be upgraded to include interior heating. This allows them to quickly come up to a comfortable temperature, and even provide you with additional warmth if you are feeling cold from your work outside. It's a can't-miss luxury when the temperatures dip.

Automatic Dual-Zone Climate Control.

If you're driving passengers, you may not always have the same wants and needs when it comes to the temperature inside of your GMC truck. With automatic Dual-Zone Climate Control, you can tailor the halves of your vehicle to two different temperature settings. This means that you can be comfortable while allowing a passenger who prefers higher or lower temperatures to also enjoy their own preferred temperature levels.

Keyless access.

Sometimes when you head out to your vehicle, you may not have the free hands required to find your key and use it to get your GMC truck unlocked. With keyless access, that's not a problem at all because your truck automatically unlocks when you approach with your fob on you. This makes it easier to get in and saves you time when using your truck.

120-Volt power outlet.

Whether you need a little bit more power at a job site or want to provide a passenger with the ability to use an electronic device like a laptop charger, the optional 120-volt power outlet is the perfect way to make your GMC truck as functional as possible.
What Tameron Buick GMC Can Do for You
If you can't wait to get behind the wheel of a 2021 GMC truck and want to take advantage of these fantastic interior amenities, come out to Tameron Buick GMC today to shop for a new GMC truck in Daphne, Alabama. Our experienced staff will discuss what you're looking for and help you find vehicles on our lot that meet your needs and budget.
If you want to purchase a used car or have any questions, you can contact us online or give us a call at 251-263-7146. A member of our staff will be happy to answer any of your questions. We're excited to show you what a GMC truck can mean for your future.