Daphne is a tiny town in Alabama. The quaint city has fishing communities and many historic residences that house both locals and visitors. There are several activities that locals and visitors can engage in, both throughout the year and during specific times of the year. Here are some fun holiday activities happening in Daphne, Alabama, to check out this season.
Christmas Extravaganza Gift Show
The Extravaganza Gift Show is an annual event that occurs at the Daphne Civic Center. This year's gift show will be on Dec. 11. The Christmas show is where you can get all your Christmas gifts, ranging from jewelry, accessories, fashion, and many more. It is a unique event, and you will find a suitable gift for you and your loved ones.
In addition, there are exceptional gifts for those who think they have everything. There are always vendors around to talk to about your gift needs. The entry fee is $5 for kids under 12. For an adult, the cost is $7, and you can get a VIP ticket for $18, which includes a shopping swag bag.
Tree Lighting Ceremony
This ceremony is another annual holiday event that brings together both locals and visitors. Due to the pandemic, the event has undergone many changes to minimize the risk of disease transmission. During the last event in December 2020, many people gathered at the City Hall with their masks for some merriment in the middle of the pandemic.
The regular activities of the event include a presentation from children's choirs, free food, and a live music presentation. The success of the Daphne tree lighting ceremony is because of efforts from city employees and volunteers who are primarily from Daphne High School.
There have been seamless improvements to the event. For instance, in 2020, there were additional Christmas decorations on the City Hall lawn provided by the Downtown Redevelopment Authority.
Christmas Parade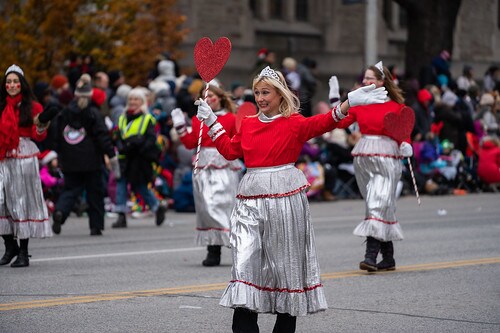 ?
Image via Flickr under CC BY 2.0 by Kevin Cabral
The City of Daphne workers organize the annual Daphne Christmas parade. Although Daphne is a small city, it still has special Christmas events. Every year, thousands of locals gather in the streets to watch live bands, elaborate floats, and city workers as they drive fancy cars.
The parade takes approximately two hours. Instead of being a daytime activity, it occurs at night, creating a magical and memorable holiday spirit. You shouldn't miss this event, especially if you want to make memories with your loved ones that will last a lifetime. You'll feel jubilant watching from the sidelines as the parades go by.
Thanks to the colorful street decorations, fabulous restaurants, and shops, Daphne is the place to be for holidays.
Snow and Movie Night
This event has two parts on the same evening. First, you will witness snowfall before proceeding to watch movies later in the evening. Daphne Snow and Movie night is organized by the City of Daphne workers. Snowfall begins at 4 p.m., after which participants proceed to movie watching inside the hall at 6 p.m.
Food is available in and outside the City Hall from 4 to 8 p.m. Apart from the City of Daphne, the following teams also help in planning the event:
Keep Daphne Beautiful.

Daphne Public Library.

Daphne Civic Center.

Daphne History Museum.
Daphne Holiday Public Concert
The Baldwin Pops Daphne Holiday concert is organized by a group of volunteer musicians who are determined to enhance the culture of Daphne by offering free public shows, and attendees get their seats on a first come, first served basis.
Daphne public concerts mainly occur in the Daphne Civic Center. This year's event will be on Friday, Dec. 3, from 7 to 9 p.m.
Coastal Fashion Week
The Coastal Fashion Week will take place on Saturday, Nov. 20, 2021, at the Daphne Civic Center. The public will be joining the coastal model casting as they aim to break the barriers of typical fashion. The one-night event will be showcasing what we will expect during the Coastal Fashion Week 2022 tour. The Daphne Civic Center will be open to the public at 6:30 p.m., after which the show will kick off at 7:30 p.m. The mission of the two organizers, Exalte Magazine and Coastal Fashion Week, is collaborating on philanthropy and fashion.
Annual Cornhole Tournament
The Annual Cornhole Tournament is a holiday event that will be happening for the second time on Saturday, Nov. 20, 2021, from 1 to 4 p.m. It is an event where the community's elite give back to their society. You are also asked to join the Elite Gives as they embark on transforming lives by raising funds to provide necessities such as food, clothes, and shelter to needy families in Daphne.
Everyone is welcome, and the event will include friendly competitions, food, and other forms of fun. Attendees are encouraged to wear green to this life-changing event.
Culinary Tour Through Alabama
The event will happen on Saturday, Nov. 20, 2021, from 1 to 5 p.m. at the historic Oakleigh House Museum. There are no entry tickets required for the event. In addition, the event will feature a signing and presentation by the author Monica Tapper.
What Other Areas Can You Visit in Daphne, AL?
If you are still looking for more fun activities in Daphne, Alabama, you can visit the following places:
Gator Alley Boardwalk.

Village Point Park Reserve.

May Day Park.

The American Sport Art Museum and Archives.

Sunset Pointe at Fly Greek Marina.

The Daphne Museum.

Ugly Fishing LLC.

Hot Wheels Skate Center.

Boudreaux's Cajun Grill.

Moe's Original BBQ.

The Wacky Shrimp.

Mediterranean Sandwich Co.

The Sugar Kettle Cafe.

Rock Creek Golf Club.
Daphne, Alabama, is the place to be during the upcoming festivities. It is a place to enjoy and create memories, celebrate culture, and showcase and nurture talents. The holiday activities in Daphne bring the locals together. Tameron Buick GMC would love to know your favorite holiday activity is on this list. If not, contact us and we'll add it to the list.