Looking for outdoor activities in or near Daphne, Alabama? You might be surprised how much you can find to do here. Just in case you're a first-time visitor to the area, Daphne is located on Mobile Bay's eastern shore. You'll find beaches, parks, festivals, cultural events, fishing piers, and more. Take a look at some of the more popular cultural activities and outdoor adventures you'll find in Daphne.
Gulf Shores Beach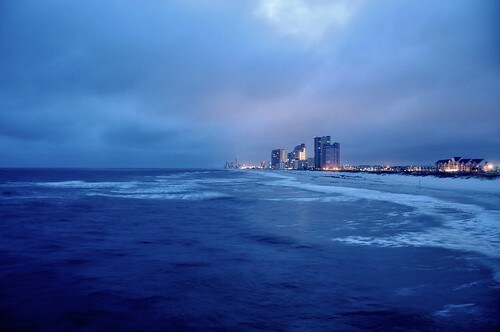 Photo via Flickr under CC BY 2.0 by faungg's photos
Gulf Shores is recognized as one of the beach beaches in the state. With 32 miles of white sand waiting for you, this is a great spot to spend the day with your family. You'll also find plenty of activities there if you want to spend a few days along the coast, including a water park, zoo, and the USS Alabama exhibit. Be sure to enjoy all the fresh seafood along here, especially the oysters.
Gator Alley Boardwalk
Located in Summerdale, the Gator Alley Boardwalk is a self-guided tour along elevated boardwalks so you can safely view alligators. If you want to see a feeding, they happen daily in warmer weather at 11 a.m., 1 p.m., and 4 p.m. You'll find over 450 alligators, ranging from hatchlings to full-size adults. The alligators here are rescues transported from places where they were in danger or in an unnatural habitat.
A shaded picnic area is a perfect place to enjoy lunch. Look for other natural wildlife here, including owls, turtles, bullfrogs, ospreys, and more.
May Day Park
May Day Park is a historic park in Daphne, established in 1887. Many of the city's festivals have been held here over the years. On a regular day, you can find a perfect picnic spot under the shaded oak trees. The park also offers a beach area, playground, pier, picnic tables, and a handicap-accessible boardwalk. If you have a boat, you'll also appreciate the free boat launch.
Village Point Park Preserve
Village Point Park Preserve is the largest park in Daphne. Here, you'll find a wealth of history and exciting things to do. While it's one of Daphne's newest parks, evidence shows some of North America's earliest inhabitants roamed the lands around here. European travelers built colonies here. Researchers have found evidence that Native American, French, Spanish, and English travelers passed through here.
If you're interested in Village Point Park Preserve's natural history, you'll find wetlands, undeveloped woodlands, state champion trees, and more. Enjoy unlimited public bay access as well.
Don't miss Jackson's Oak, one of the most historic live oak trees in the state. It's 95 feet tall with a circumference of 28 feet. It's noted as a survey line marker in the original Spanish Land Grant survey map of 1787. Experts believe the tree got its name when Gen. Andrew Jackson gave a speech from one of the tree's limbs while traveling from Pensacola during the War of 1812.
You can also visit the D'Olive Cemetery, which dates back to the early 1800s. It's one of the oldest burial sites in Baldwin County and the oldest in Daphne. You'll see burial sites with French headstone inscriptions. The D'Olive family came from Toulouse, France, sometime around 1770. As was customary in those days, the family was buried on their own plantation.
Pensacola Beach Gulf Pier
Take a drive to Pensacola and visit one of the best fishing piers in the area. The Pensacola Beach Gulf Pier is nearly 1,500 feet long, and it's the ideal place to cast your line for mahi mahi, king mackerel, cobia, bonito, tarpon, flounder, red fish, and more. Given that several sailfish over 50 pounds have come from here, there's always a chance you could bring home a prize-winning size fish. The pier also hosts fishing tournaments, so you could always come to watch if you aren't interested in fishing yourself.
Unlike some piers where you might only find expert anglers, Pensacola Pier is welcoming to beginner and advanced anglers alike. You can also rent all your gear there, including rods, tackle, bait, carts, and coolers. Food and drinks are also available.
If you enjoy a pretty sunset view, stick around until the sun goes down, as the pier is known for its gorgeous Pensacola Beach sunset views. Are you traveling with kids? They will enjoy spotting marine life. They might luck out and see sharks, dolphins, manatees, crabs, multiple types of rays, and more.
Audubon Bird Sanctuary
Located only 50 minutes from Daphne on Daupin Island, the Audubon Bird Sanctuary is one of the best places to do some bird watching. In fact, it's one of the top four locations in North America for viewing spring migrations. There is a 3-mile trail system that was recently designated a National Recreational Trail. The sanctuary civers 137 acres and is made up of dunes, maritime forests, marshes, a beach, and a swamp.
This is the largest area of protected forest on the 14-mile-long island. Migratory birds first stop there after the long flight from South and Central America each year. Alabama has documented 445 species of birds in the state, 420 of which have been seen on Dauphin Island.
Hiking at Blakeley Battlefield Loop
The Blakeley Battlefield Loop is a hiking trail near Daphne that extends almost 5 kilometers. The trail is accessible year-round and is good for all hiker skill levels. There's no shortage of wildlife and bird watching opportunities along the trails.
You can also make a weekend out of it and go camping there. You can experience plenty of history at Blakeley Battlefield State Park, which features a well-preserved Civil War battlefield, prehistoric Native American mounds, and Blakeley, one of the oldest towns in Alabama. You can see about 5 miles of Confederate and Union breastworks in the park, the site of the last combined-force battle of the Civil War, the Battle of Ford Blakely.
Be sure to visit the Gatra Wehle Nature Center, where you can learn about the animals and plants you'll find throughout Mobile Bay and the Mobile/Tensaw River Delta.
What are your favorite outdoor activities in or near Daphne, Alabama? Do you have a suggestion that we missed on our list? If so, drop us at a line at Tameron Buick GMC. We' love to hear about any other outdoor activities you enjoy and what else we should add to our list.